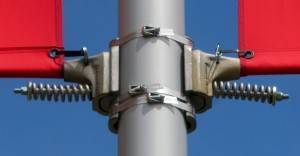 The Typical Situation: A client has come to us in order to overcome a common problem faced by many that wish to install light pole banners in windy or particularly harsh climates. They have experimented with banner programs in the past, and have been put off by the durability and integrity of the banners.
There is a twofold cause of this problem:
The banners were most likely not produced on the highest of quality materials and under the most stringent of quality controlled manufacturing as pioneered by Downtown Decorations, Inc. We introduced and set the bar for quality with: double-fabric rod pockets, solid brass rolled-edge grommets, and all seams and side hems are provided with double-lock stitching and back stitching in stress areas. We use higher quality manufacturing processes and materials, and due to our reputation and acting as the industry leader we are still capable of offering more aggressive pricing than the competition.
Banner hardware was not designed for your banner application or it was improperly installed.
Offering the industry's largest selection and inventory of light pole banner brackets and hardware Downtown Decorations, positioned as the industry leader - provides complimentary banner hardware consultation and can often provide aggressive discounts based on quantity and the extent of your banner program. With a bracket specifically designed for each banner size and pole application - the experts here at Downtown Decorations, are eager to assist you in your hardware selection.
In order to combat inclement weather and windy climates Downtown Decorations is pleased to offer our exclusive line of specifically designed and engineered cantilever spring-loaded banner bracket. If you live or plan to implement a banner program in a particularly windy environment - these are the brackets for you! Able to flex and bend based on the force of the wind resistance experienced by the banner - these brackets allow banners to undergo much less physical stress, resulting in banners that maintain their visual appeal and structural integrity for seasons or years to come.
Contact the experts at Downtown Decorations to learn more about the importance of selecting the right banner hardware, and to receive tips and rules of the thumb in proper banner installation.
Phone: 877.369.6332
Email: info@downtowndecorations.com
Visit: www.downtowndecorations.com